November 27, 2004
Europa as nation - and usable design
While we're on the topic of European Union design, have a look at the entry page of the EU web portal. Notice how the politics of the EU get in the way of good, usable design? No? Here's how:
Why every politician who cares about getting reelected is busy saying that the EU is a union of independent nations, the EU machinery itself is busy promoting Europa as nation (Design evidence: The "one-star" Europa logo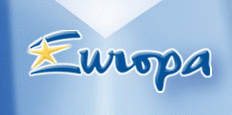 on the portal site dominates the 12 star flag.
The 12 stars represents the nations of the EU, so by extension the "one-star" EU logo represents unity).
In the nation of Europa there might be room for all the national languages , but certainly not for the national flags, the quintessential national symbols. That's why the list of localised sites is a bland list of text-only references: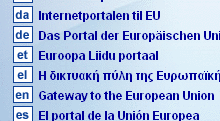 - instead of a much more scannable list of flags. It is really hard to find your language in the list. And more so if, like me, your language is one of many similar languages with identical looking entries. Everybody is able to recognize their own flag in an instant. Yes, I might be overthinking this.
The fact that the entry page exists is evidence why EU as nation is in trouble in the first place. There is no information that can be represented as the opening page that would make everybody feel they belong. I think somebody in the EU system needs to talk to Clotaire Rapaille. "Nation" is so off code for Europa and Europa is off code for Nation.

Posted by Claus at November 27, 2004 01:22 PM | TrackBack (0)