October 22, 2006
War and Peace in 5 minutes - part IV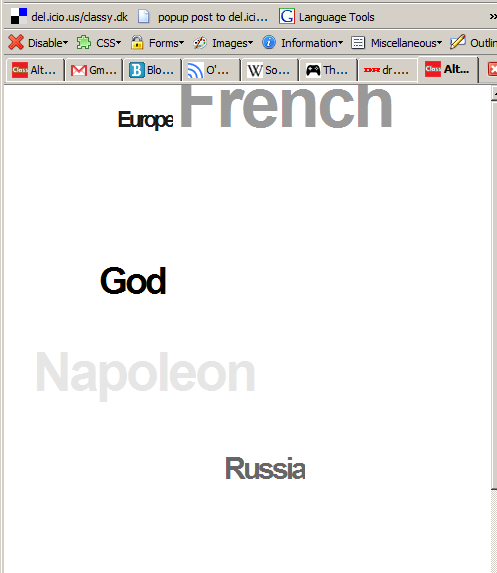 My novel visualization project is making some real progress.
I finally took the time to combine my slow moving poetry viewer with the War and Peace tag cloud. The result is a fast moving stream of consciousness reading of War and Peace, that you can find here (for less and more: Watch just the thrilling conclusion). The code is not so efficient, so on my machine it takes about 15 minutes to run through the entire novel (conclusion 1-2 minutes).
The image above is the end state of the visualization. The theme of Tolstoy's epiloque is captured in 5 words. Watching the visualization is of course not like reading at all, but instead reveals elements of Tolstoy's story telling rhythm and the theme of the novel in a totally new way - like my brother said, it feels a little like a Koyaanisqatsi for novels. However, it clearly needs beautiful ambient music as accompaniment. Are you a composer of beautiful ambient music? Care to join the project? Leave a comment if you do.
Posted by Claus at October 22, 2006 12:14 AM | TrackBack (0)