October 14, 2008
Spotify DJ is now available
[UPDATE: DJing? Join the Facebook group]
I'm pleased to present Spotify DJ to the world.
Spotify DJ is a companion app to Spotify that turns you into an internet DJ.
Spotify DJ makes your music selection available in a convenient web player for other Spotify users.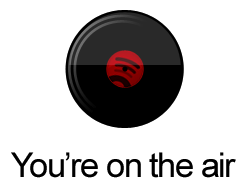 Spotify DJ requires Adobe Air. After installation, just launch the app and follow instructions.
If you just want to listen in, find a DJ playing right now at spotifydj.com.
Spotify DJ is a work in progress. It did not even exist as an idea two days ago. I hope you have as much fun DJing as I had making the app. Thanks to Morten for the idea, for testing and for visuals and interface ideas.
- The back story for the app is here.

Posted by Claus at October 14, 2008 11:53 PM | TrackBack (0)